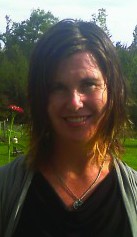 Lauren Abend, LMT received her training in Massage Therapy from The Massage School in Easthampton, MA and has operated a thriving private massage practice in Hadley, MA for over 3 years.
Lauren has been educated in Anatomy and Physiology, Pathology and Myology. She also has an extensive background in herbal medicine diagnostics and therapeutics, as well as a love of personal fitness and athletics. Lauren values the human body's role in actively pursuing the joys of life.
She is an athlete, CrossFit enthusiast, gardener, herbalist, mother and licensed massage therapist. When her hands are not in the soil, or her feet out running a trail or kicking a soccer ball, Lauren is helping others get back to the activities they enjoy!
Her therapeutics include deep tissue massage, trigger point therapy, assisted stretching, and functional movement screening.